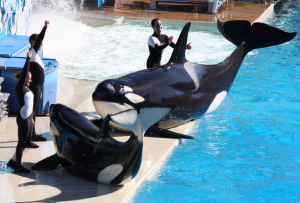 Another bad publicity day for SeaWorld. After a trainer in their Orlando, FL facility was drowned by a killer whale and a documentary that criticized their practices was released caused boycotts and drops in attendance, the park now has another problem at their San Diego, CA location.
The state's Occupational Safety and Health office gave the location four citations for failing to ensure the safety of their trainers working with killer whales. OSHA says that the park did not properly inform their employees of all the dangers associated with working with the animals, and failed to properly train employees and supervisors on safe animal handling. Employees were allowed to swim in tanks with the killer whales which is a practice that is no longer allowed in the Orlando facility since the death of their employee.
Officials also say the park made employees sign confidentiality agreements that discouraged employees from reporting dangers. The four citations total just under $26,000.
The Orlando facility received citations after an investigation into the trainer's death in 2010, but SeaWorld has said they have made safety improvements to their parks since then, like adding quick-lift floors in the pool that could separate trainers and whales.
SeaWorld said that they plan to appeal, saying that OSHA does not understand what it takes to care for their animals and the citations are unmerited. There had not been any injuries at the San Diego park at the time of the investigation.