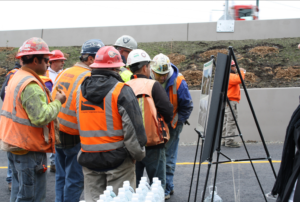 A survey from the group "Build a Better South" found that the Nashville, TN area presents the most hazardous conditions for construction workers and was found to have the highest injury rates for workers.
The survey of 1,435 construction workers in the major Southern construction markets of Nashville, Atlanta, Charlotte, Dallas, Houston and Miami generated information about working conditions in these cities. More than one in four construction workers in the South work in one of these cities, and as the industry continues to grow the researchers wanted to find out the issues facing construction workers today to potentially develop safer solutions.
They found that one in seven workers had suffered an injury over the course of their career. Texas does not require workers' compensation for construction workers but even still, only 45 percent reported that their employers paid into the workers' compensation system and 12 percent were unsure.  About a third of workers reported that they were misclassified as an independent contractor.
Forty-four percent of workers said that they had never received OSHA-certified safety training, even though it's considered "best practice" for workers to go through at least a 10 hour safety training course.
Nashville workers in particular reported rough working conditions and injuries. One in four Nashville workers reported being injured over the course of their career. Nashville has been growing, and the Associated General Contractors of America (AGC) reported that 90 percent of Tennessee contractors said it has been difficult to find skilled workers, which may mean they are hiring temporary workers who may not be as experienced. About 18 percent of Nashville workers surveyed said that their got their current job through a temporary staffing agency, compared to 6 percent of respondents in other cities.
Tennessee workers reported an annual injury rate of 12.7 percent per 100 workers which leads researchers to believe that many injuries are going unreported, as OSHA reports that the injury rate for construction workers in Tennessee was 3.3 per 100 workers in 2015. Only 19 percent of Tennessee workers reported that their medical bills were fully covered by workers' compensation, and 38 percent said at least part of their bills were covered by their employers. A fifth reported that they paid out of their own pocket.
The recommendations from the group were to ensure that workers were paid fairly, and to guarantee safe working conditions as well as improve enforcement of existing policies and invest in training.
Read the full report here