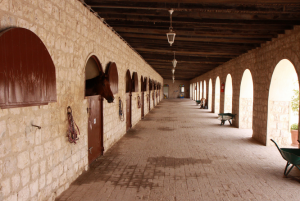 A worker at Yonkers Raceway, who said she suffered respiratory problems because of her job, was allowed to keep her benefits after her employer appealed the original decision. The appellate division sided with the employee and said she had suffered an accidental injury on the job.
Delores Wilson started working for the raceway in 2008 but stopped in 2010 and filed a comp claim, saying that irritants in the air caused her to develop breathing problems that she never had before she started working there. She worked in an old building a few yards away from where the horses were kept in barns. Her allergist said that her symptoms were consistent with hypersensitivity pneumonitis, which could develop from moldy hay or other contaminants flowing through the air vents. Wilson had testified that she sometimes saw black particles coming out of the vents and that her building had prior mold damage. Management said they had replaced filters and cleaned the vents after she complained, her house tested negative for any mold.
In previous testimony she also acknowledged that she smoked "on and off" for about 20 years but had never experienced breathing troubles before this job, she testified that a co-worker had also left work because of lung problems.
The insurance company's physician said that Wilson's tests were positive for antigens that can cause hypersensitivity pneumonitis, and that she tested negative for a genetic disorder that causes early onset emphysema even though he also thought she may have suffered from emphysema because of smoking.
The appellate division decided to uphold the original work comp judge's decision that her symptoms were work related and she should keep her benefits.