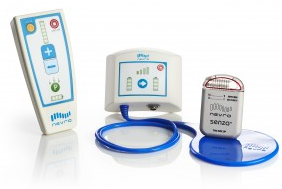 We know that back problems are problematic in workers' comp. Patients are given opioids to try and help, but there are dangerous consequences to those medications. Spinal surgeries are another solution, but they can be expensive, risky, or not work as well as intended. Maybe a new "spinal cord stimulation system" (SCS) from Nevro, just approved by the FDA as being a superior product, will help back patients get the relief they need without all the problems.
Senza is a new high-frequency SCS that can deliver up to 10,000 Hz of stimulation, compared with conventional systems that deliver 50-100 Hz of stimulation. The Senza delivers Nevro's HF10 therapy to help control pain, and is the first of its kind to be given a "superiority" label from the Food and Drug Administration (FDA). The HF10 therapy delivers electrical pulses that come from tiny electrodes that are placed around the spinal cord and connected to an implant under the skin. Patients with the new high frequency implant can drive their cars, get MRIs and are at a reduced risk of tingling sensations from the device, while there are restrictions on patients with lesser frequency devices for MRIs and driving and many patients reported feeling that tingling (paresthesia).
The FDA recently approved it for use in the United States and allowed its maker, Nevro, to label it as "superior" to other products. It is already approved in Europe and Australia and patients there have not reported any safety issues even after years of the HF10 therapy. One thing researchers have found is that, since it operates at such a high frequency, its battery needs recharging quite a bit more than other systems. That may cause annoyances and may even deter some patients from using it, as they don't want to have to deal with charging it every day or every couple of days.
Recent studies show that high-frequency spinal cord stimulation devices that are implanted in patients with severe pain, who have already undergone months of other kinds of therapies without results, have been shown to be much more effective at relieving pain than lower frequency device.