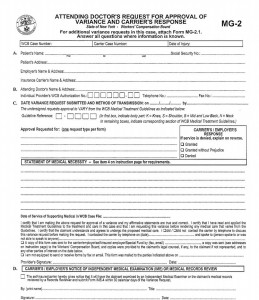 The State of New York posted Subject No. 046-551 stating that effective July 1, 2013 Form MG-2 and MG-1 are mandatory.  As of June 30, 2013 the NY WCB will not accept any of the older forms.
Form MG-2 is a variance request form that is multi-paged and has tons of small type and fields.  There is information that is mandatory and essential to the form being accepted due to internal procedures at the WCB.  All required fields are evident by the check box symbol on the form.  Please be aware when filling out these new forms that no information is missed as this will cause a delay in your form being processed.
These forms are related to NY treatment guidelines.  The forms are designed for variance and approval of treatment in excess of NY treatment guidelines.
Any questions can be directed to the Board's Medical Director's Office at 800-781-2362.