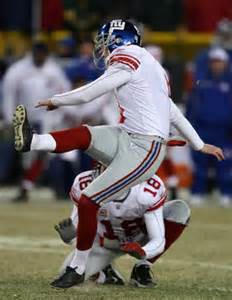 Former NFL kicker Lawrence Tynes who played much of his career with the New York Giants and most recently in 2013 with the Tampa Bay Buccaneers has filed a lawsuit in Broward County Circuit Court claiming that he was being treated in the teams' training room for an ingrown toenail in his toe on his kicking foot.
Tynes says the team failed to have the necessary sterile techniques and therapies, and that equipment and surfaces were unclean.  This ultimately led Tynes and other players contracting MRSA.
Tynes underwent multiple surgeries to remove infected tissue and even had to have six weeks of intravenous antibiotics to kick the infection.  All of this lead to permanent and debilitating pain that would force Tynes to hang up his cleats early.
In his lawsuit Tynes is seeking $20 million in damages claiming that this is the amount he potentially lost because he is not in the NFL anymore and cannot play.
Tynes played seven season in the NFL and won two Supe Bowl rings with the New York Giants.