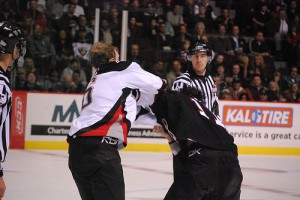 Not surprisingly, in the wake of the NFL settlement that agreed to pay $765 million to former players for concussions, former National Hockey League (NHL) players are coming forward to get what's theirs. The players say the league did not do their part to inform them or protect them from head injuries during their careers. This particular suit consists of only 10 players, but I am betting that number will increase as more players start to feel the symptoms of constant head on ice/head on stick/head on fist action. The NFL ended up with over 4,500 athletes filing suits.
How many games do you think an average professional football player participates in during their career? Some of the hockey players involved have played 580 games (Curt Bennett), 667 games (Gary Leeman) or even 876 games (Rick Vaive). The suit states that players can receive almost a thousand hits to the head in one season. Besides losing all of their teeth I'm sure they lost a few brain cells along the way, probably to dangerous levels.
Since 2004, when the league updated their rules to facilitate a more exciting and intense experience for the fans, violent collisions and injuries have been increasing. Things like full-body checks or on ice fights are allowed, and seemingly encouraged. A statement from the law firm representing the players alleges that the NHL encourages those that seem to be intent on hurting the other team; these players are called "enforcers". If you've been to a hockey game and heard the crowd react when a fight breaks out, you'll understand why. But is that a good enough reason to allow these players to put themselves through such traumatic injuries?
Rick Vaive is one of the bigger names in the case and has changed his views on the violence and the rules of the game since his career ended.
"What's it going to take?" he said. "Another player convulses on the ice. Is it going to take a death in the NHL before anything is done about it? That's the question. Don't be reactive, be proactive."
Don't be reactive, be proactive. That's the stance we take in almost any other industry- from construction to lab work to agriculture. Have the safety measures in place beforehand so that you can prevent hazards before they occur (or at least greatly reduce the risk of occurrence). Safety precautions in the league have gotten better but let's be real, their standards wouldn't be acceptable in almost any other occupation. There are not many occupations where getting body slammed is "just another day at the office". Helmets weren't mandated until 1979 and even then the league looked the other way and allowed players to continue without them. To be fair, the players do tend to embrace the aggressive nature of the game and don't always agree with safety measures or comply with them. But just like your mom made you wear a helmet even though the cool kids didn't have too, I think the league should step up their enforcement of safety features.
We all know hockey is a rough sport. I love it and so do a lot of other fans. But there have been times when even I think they take the fights and the hits too far. Maybe it's hard to resist with fans cheering you on and nicknames like "The Bash Brothers". But the guys that put it on the line, pretty much for our entertainment, deserve to be safe and taken care of.