This week, a joint investigation by ProPublica and NPR stated that the grand bargain of workers' comp may not be such a bargain to many injured employees around the country. Especially those who have suffered catastrophic injuries like paralysis or a lost limb, because they find it difficult to find a job that will fit within their needs and abilities. Some can't go back to work at all.
If you read the ProPublica and the OSHA article mentioned in the text, keep in mind that although they do make some good points there is still A LOT on the table to discuss when it comes to factors that affect workers' comp.
The report claims that many states have been slowly changing and cutting workers' comp programs to benefit the employee less and less, and as a result many injured workers can never get back on their feet after an injury. In 2013, workers' comp insurers had an extremely profitable year (for comp, at least) while rates were at a significant low for employers.
Workers who are injured on the job face an uphill and lengthy battle to get the benefits and healthcare they need. Oftentimes they turn to disability or Medicare when they can't get what they need from workers' comp. Or families have to take on the financial and caretaking burden themselves. Comp was created during the industrial era, when gruesome accidents were more common than today. Just because we don't hear about them as much doesn't mean they still don't occur, and it is the workers whose injuries are life-altering that sometimes can't get the benefits they need, according to the findings.
A report out from the Occupational Safety and Health Administration (OSHA) says that workers' compensation pays for 21% of injuries, while families take on half the financial burden.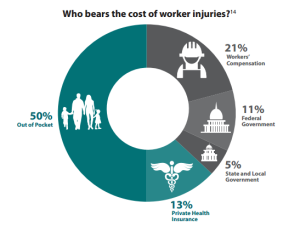 ProPublica found that in the last 12 years, 33 states have passed work comp reforms that have reduced benefits or made it harder for injured workers to qualify for them. Florida is listed as one of the top offenders. In the 1970s a Congressional commission studied state's comp laws and made recommendations that would act as the basic workers' compensation system we have today. The report found that only seven states continue to use even half of those 19 recommendations (workers should pick their own doctors, spouses can get benefits until they remarry, employees should get 2/3 of their wages if they need time off, etc.)
The investigators looked at compensation rates between states– if you lose your hand in Alabama you can get $37,400 but $402,277 in Kentucky. Why the discrepancy? Each state has a different way to compensate workers. Since workers' comp is a state program, it isn't heavily monitored by the federal government. It's a lot to keep track of, but certain congressmen are speaking up.
Other congressmen are worried that actions to reverse these cuts might mean companies move out of their state. Low workers' comp rates are attractive to businesses. With the recent recession, businesses have been worried about money more than ever.
The OSHA paper also calls out employers for causing some of the problems in workers' comp. If workers are misclassified as independent contractors rather than employees, they do not need to provide a safe workplace to their "self-employed" workers and do not need to pay premiums on them. The number of misclassified employees varies per state and occupation (a lot of misclassified employees in construction), but they can still be doing dangerous work and if they are injured have virtually no safety net to fall into.
The report runs through the stories of many workers who have been catastrophically injured but continually denied by the system. While many who are injured at work can get back on their feet after a short recovery some cannot, but as workers' comp continues to re-shape around the country hopefully they can get the help they need so they are not left behind.