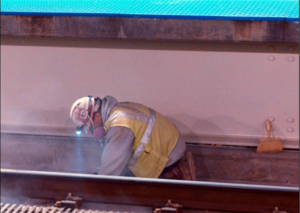 The Occupational Safety and Health Administration (OSHA) has cited an Ohio company after OSHA investigators found that workers were exposed to significant hazards, as well as dangerous levels of silica. Silica dust particles can be found in occupations that cut, saw, drill or crush concrete, brick, ceramics and other stone products, as well as those that work with large amounts of sand. The particles can be hazardous when inhaled and can cause lung diseases like silicosis or lung cancer, and kidney disease.
The Amsted Rail Company Inc. in Groveport, OH is facing proposed penalties of $610,034 from OSHA. One of their workers was sent to the hospital after being caught in a machine. At least four workers were exposed to excessive levels of silica.
OSHA launched an investigation after an incident on January 3rd this year, in which a worker's leg was caught in a machine while performing maintenance on it. They investigated again in February and found that workers were exposed to silica limits that were over the permissible amount of dust based on the limit for that workspace. Their investigations revealed that the company failed to adequately guard machinery, evaluate permit required confined spaces, or guard floor openings to prevent falls. They also failed to implement engineering controls that would lower silica dust exposure, did not implement a respiratory protection program or provide adequate protective equipment.
They received six repeat, 19 serious and five other-than-serious violations between the two inspections. They are now in OSHA's Severe Violator Enforcement Program which means they will undergo mandatory follow-up inspections and must increase their company's awareness of OSHA enforcements.
Read the OSHA release here.