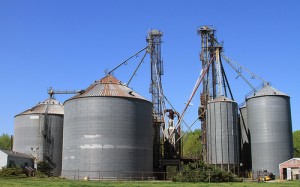 Every year farmers across the nation are seriously injured or even killed due to grain storage and handling procedures.  In 2010; 26 farmers were killed in grain engulfments across the US; that is the highest number on record.
In Ohio three farmers have been killed so far this year, most recently a farmer suffocated in a grain solo in Butler County.
The Ohio BWC recognizes that these workers perform dangerous job functions on a daily basis, it is just the nature of the work of being a farmer.  The BWC wants to improve statewide safety efforts to improve workplace safety.
The leading cause of death in farmers occurs when they enter into a grain bin, become trapped, and suffocate.  Of course there are also other hazards of the job that include using heavy machinery and getting injured and falls.
A worker should never enter a grain bin unless absolutely necessary, if it is deemed that one must enter the grain bin th efollowing measures should be taken:
Turn-off, disconnect or block off all mechanical, electric and hydraulic equipment particularly grain moving equipment. Grain should not be moved while a worker is inside the bin as a suction can be created that can engulf the worker in seconds.
Do not "walk down" grain to make it flow. Grain movement especially is dangerous and greatly increases the risk of being engulfed in grain.
Train all workers of the specific hazards of working inside grain bins.
Provide rescue equipment such as winch systems that specifically are designed for bin rescue.
Station a spotter or observer who is equipped and trained to perform rescue operations.
Test the air inside the bin for oxygen content and the presence of any hazardous gases prior to entry.
Precautions need to be taken at every job and it is good that the BWC is stepping up efforts to make our farmers safer.  The BWC will also offer on-site consultations.  If you have more questions about the safety protocols feel free to reach out to the Ohio BWC.
Source:  EHS Today