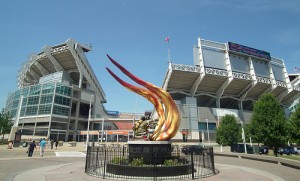 As reported earlier the Ohio BWC has issued a $1 billion rebate to employers and government entities.  They have begun to receive these one time rebate checks.
Toledo city spokesperson Jen Sorgenfrei says that the city will hire 50 new firefighter recruits in August, that is up 20 from the original 30 that they were budgeted for.  Because of the rebate they will be able to hire more and make the city even safer.
Toledo is expected to receive $1.7 million in rebates.  They are receiving a larger share of money because they participated in a program where they got an upfront discount on their premium in exchange for taking on a larger share of claim responsibility.
Lt. Matthew Hertzfeld says that by getting the extra money and being able to budget in more recruits this will keep the department ahead of future retirements.
The BWC says that solid investments made the rebates possible to almost 210,000 businesses, schools, townships, governments, etc.  It is also believed that this money will help to stimulate Ohio's economy.
It is nice to see that the investments paid off this year for Ohio and they are able to offer these rebates and the money be used to help make places like Toledo safer.  Return on investments like this is not always the case.  There are ways that can assist to keep medical expenses at bay by means of technology platforms that can offer a more stable environment on a consistent basis, let look at every option to make sure we are doing everything possible to keep these rebates coming.
Source: Ohio BWC