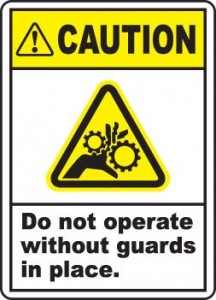 OSHA has issued $560,000 in penalties to Custom Rubber LLC in Houston, TX following an incident in which an employee has his arms crushed by machinery that was left unguarded.  OHSA has made eight citations against the company which manufacturers oilfield elastomer, phenolics, and thermoset plastic products for industrial markets.
In September 2013 OSHA received a complaint that a worker had been severely injured while operating an unguarded machine.  This is when the OSHA Houston North Area office began to look into the company.  While they were inspecting the company they were informed of two more incidents in which employees had been severely injured in the same fashion.
Safeguards on machines are put there for a reason they are not just a decoration.  When these are either broken or taken off and not replaced they put the workers in a great deal of potential harm.  Injuries can result in lose of life or limb in heavy machinery.  This is something that is clearly preventable and easy to do, why a company would not keep their workers safe and disregard the safeguards is beyond me.  Hopefully with such a substantial fine Custom Rubber will learn to treat the safety of their employees seriously.
Source:  OH&S Online