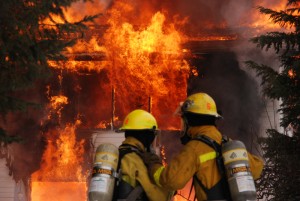 OSHA regulators are now looking to take steps to regulate public safety.  As they are looking into public safety the first area they want to target is firefighting.  In doing so they want to look at the way fire departments are aggressive and attack fires from the interior of the burning building.
This new focus is coming on the heels of a decision by the President to cover expand their regulatory coverage into public safety.  OSHA will also begin to look into airline and mining operations.
OSHA complied a committee to review firefighter procedures and find out where there were injuries and fatalities.  Apparently there was an overwhelming amount of data that showed that a majority of incidents happened while inside a burning building.
"Burns, falls, smoke inhalation, heat stroke, dehydration, and heart attacks all inside burning building or caused as a result of working inside that burning building. This is an easy issue to solve… Keep the firefighters outside. Get them to use a smooth bore nozzle to shoot that water in windows and doors. Once the fire is basically out then go inside to put out any smoldering remnants."
Chief Mike O'Hallorhan who is the consultant to OSHA says that fire service members are likely to be resistant to this procedure especially older generation firefighters.  He feels that if the older generation catches on it will be an easier transition.
When asked what he thinks the public will think O'Hallorhan responded by saying that the public should not have an issue, the firefighters will still pull up and put out the fires just from the outside of the house.  As a result you will see less firefighter injuries.
I see the wanting to keep firefighters safer as this is an extremely dangerous job.  However, if firefighter as required to stay outside till the fire is out the just go in to put out smoldering hot spots will this lead to more civilian fatalities as a result because if there are no witnesses to let them know if there are people inside the building.  The job of firefighters is public safety as well as put of the fires, will this lead to less public safety? Will this lead to more civilian fatalities and injuries?  Time will tell as OSHA implements this new program which as of right now has no timetable to be initiated.
Source: Call The Cops