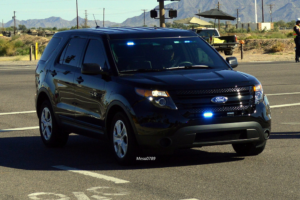 State troopers in Washington have complained that their patrol cars may have an issue that has caused several officers to possibly be exposed to carbon monoxide fumes. At least six officers have reported experiencing possible carbon monoxide exposure symptoms since January, with two going to the hospital. The two troopers are back at work.
The department is installing carbon monoxide detectors into their fleet cars. They use Interceptors, a version of Ford Explorers used by many law enforcement departments. Ford said they are investigating the matter and that civilian drivers should not be concerned if they drive Explorers. The company stated that many times, law enforcement departments install extra equipment after the cars leave the factory and drill holes in the vehicles to add lights or radios. That may be a factor, or it may be a manufacturing defect. They have made a statement addressing the reports, which says that they will cover the costs of certain repairs made to Police Interceptors if necessary.
The Austin Police Department has pulled all of their Ford cars from use, after several officers were found with significant amounts of carbon monoxide in their system. Many have filed workers' compensation reports for exposure to carbon monoxide.
Carbon monoxide exposure can cause dizziness, weakness shortness of breath or nausea and vomiting. These are dangerous symptoms to exhibit, especially when operating a motor vehicle.
Read more from The Seattle Times