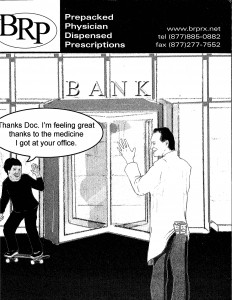 Required reading for anyone in Workers' Comp is Joe Paduda's Managed Care Matters. Joe has been quick to shine a spotlight on the costly trend in physician dispensed medicines for a while now. This flyer from a medical specialty conference says it all.
Here are my questions with the photo:
Wouldn't the kid be texting his thanks to the doc?

What meds helps you skate through revolving doors?
Is the vendor violating some child labor law when s/he had his/her 7 year old kid draw this?
Why is this all taking place in a bank?
Of course we all know what this image portrays – Physician Dispensed Medicines are profitable for physicians.   It also communicates that patients get back to work (or skateboarding) faster when the treatment starts faster. I just wish the wad of cash falling out of the doc's pocket wasn't so front and center. At least make some attempt at hiding that message. But that's asking a lot from a 7 year old artist. 🙂