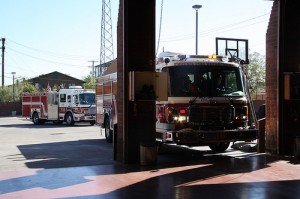 Volunteer firefighters in the Ashville Borough of Pennsylvania may soon be getting an extended vacation, as the local council grapples with some workers' compensation policy changes.
A $3000 increase in the workers' compensation premium – the borough's private provider dropped it, so the community must move to state coverage – could legally prevent the firefighters from responding to incidents. The Borough currently does not have the money on hand to pay this increase without shorting another program or initiative.
The council hopes to figure things out before stopping the trucks from performing their duties. "That is the worst case scenario," said council secretary Mary Ann Riggleman.
Currently the firefighting service extends to six surrounding municipalities, who have traditionally contributed to the workers' compensation fund. However, the council recognizes that the ultimate responsibility falls on Ashville. "We have to carry the workmen's comp for that fire company to operate, so we have to pay the bill," observed Riggleman.
For now, the situation could be dicey. I for one deeply hope that this community of less than 300 can somehow track down the money, so that these hometown heroes can continue keeping the boroughs safe.
Source: The Tribune-Democrat