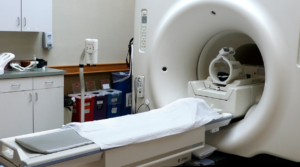 A study in the Journal of the American Medical Association's Internal Network publication reviewed the association between the location of primary care facilities and the value of care patients receive. Authors found that patients who suffer common ailments like upper respiratory tract infections, back pain and headaches may be more likely to receive "low-value care" when they visit a primary care clinic located at a hospital rather than an independent or community clinic.
The study "Association of Primary Care Practice Location and Ownership With the Provision of Low-Value Care in the United States" was part of a joint effort between researchers at Harvard Medical School and the David Geffen School of Medicine at UCLA.
The authors of the study found that clinics located in hospitals tend to refer patients to specialists more often, and may end up creating an overreliance on tests like CT scans and MRIs which sometimes do not do much to help the patient. Unnecessary testing is not only costly but can even harm the patient by exposing them to unnecessary radiation if they are undergoing CT scans or X-ray tests.
The researchers looked at the use of low-value services after a primary care visit from hospital-based outpatient practices from January 1, 1997- December 21, 2011. They compared that data to community-based office practices from January 1, 1997- December 1, 2013. They also compared whether office practices were hospital owned or physician owned.
They looked at potential low-value care recommendations such as the use of antibiotics, MRI or CT scans and specialty referrals. While antibiotic use was similar, hospital-based clinics ordered more CT and MRI scans (8.3 percent versus 6.3 percent), radiographs (12.8 percent versus 9.9 percent) and considerably more specialty referrals (19 percent versus 7.6 percent) than community-based clinics.
They found evidence to suggest that it's not about who owns the clinic, but rather where the clinic is location. Care seemed to be similar for patients who visited hospital-owned community clinics and for patients who visited physician-owned community clinics. The penchant for referring patients to specialists more often was only slightly higher in hospital-owned community clinics.
The authors of the study say that hospital-based clinics may use their findings to try and limit these kinds of tests that do not always help patients and add on extra costs to their treatment. They think that part of the reason hospital-based clinics tend to refer patients to specialists more often is because they are so accessible in a hospital setting.
John Mafi, assistant professor of medicine in the Division of General Internal Medicine and Health Services Research at the David Geffen School of Medicine at UCLA, says that it is estimated that between 10 and 30 percent of health care spending is a result of these low-value care services. Resources that are spent on those kinds of services may be better spent elsewhere.
The study is published here and The Insurance Journal reported on the findings.