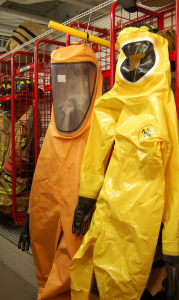 According to his surviving family, a refinery worker died after his required protective gear raised his body temperature too high and his managers ignored complaints and ignored his overheated condition.
Jason Wellons worked for J.V. Industrial Companies at a refinery in Louisiana. According to his family he was in great shape and felt great when he started the job. As he started working at this job for a couple weeks he started to get fatigued. The family claimed his managers had made him work through breaks and he had to wear his hazmat suit, gloves, and boots all day. He died when his body temperature reached 107.5 degrees. He was unable to climb down from scaffolding he was working on and even as co-workers called for help he was ignored for a long period of time. When someone finally did call an ambulance, he rode to the hospital still strapped into his suit. They had not taken the suit off in an attempt to cool him down and he was sealed in the suit, boots and gloves were taped on.
According to the family, the workers should have been given a 15 minute break for every half hour they worked in that gear. They said when he went down he should have been quickly taken out of the suit, put in ice water and given oxygen.  His mother and widow are suing for negligence and gross negligence.
Even when you think you are covered you need to make sure that every possible hazard is accounted for. It is great that workers were wearing personal protective gear but there are added hazards to account for when using those suits- hazards like overheating or exhaustion.