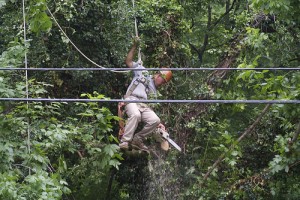 A judge for Rhode Island's Workers' Compensation Court has allowed the state to pursue a fine of $150,000 against the owner of a tree service.
The case in question concerns Edgar Velásquez, who in 2007 slashed his face with a chainsaw as Gorman's employee. Velásquez – an undocumented Mexican worker who was deported after his injury – won a landmark settlement in 2008 when he was awarded $30,000 by the court.
Gorman agreed to pay off his $30,000 obligation in $300 per month installments to avoid the $150,000 penalty of not having workers' comp insurance. Gorman only paid Velásquez $7800 of the obligation before declaring Chapter 7 bankruptcy.
A federal bankruptcy judge originally allowed Gorman to discharge his personal debts – including the $22,000 still owed to Velásquez – but the state filed a claim to keep the fine from being discharged. The federal bankruptcy court then sided with the state and declared the $150,000 fine non-dischargeable.
This case shows that backing out of financial obligations can lead to some serious stuff. Whether in poker or workers' comp, ALWAYS pay off your debts.
Source: Providence Journal