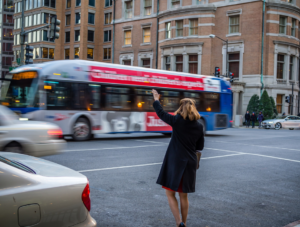 Injured workers who need to get to and from medical appointments but who don't have a car have to rely on other means of transportation, like public transportation or nonemergency medical transportation. They are not always the most convenient or expedient methods of travel and can even cause workers to miss appointments, so some are turning to the new on-call ride companies like Uber and Lyft to get around.
Some hospitals and care systems are tapping into the app by allowing patients to set up rides from the hospital website which connects to Uber. Patients who cannot use the Uber app can call the hospital to arrange a ride. Medicaid covers non-emergency medical transportation and even though traditional Medicare does not, some Medicare Advantage plans cover part of the ride. Several hospital systems and transportation services have partnered with companies like Uber and Lyft to help patients get around.
Doctors who advocate for this kind of transportation say it's a good thing because if patients are fed up with waiting for public transportation they may decide to skip going to the appointment altogether. Ben Gerber, an associate professor of medicine at the University of Illinois-Chicago, says that it is important for patients with chronic conditions like diabetes and asthma to see their doctor regularly, and transportation can be a problem in getting regular health access. Sometimes patients are left hanging when their ride doesn't show up, and may call 911 for a ride even if it's not an emergency which could be dangerous if people actually do need ambulatory services but they're out on another call.
There are a couple of problems that patients are running into with trying to use these services for medical visits. Most drivers do not have vehicles that are wheelchair accessible, and in some areas of the country these services are not as common so patients might have trouble even finding a driver who is available. If more people start to use these services for medical transportation, these problems will have to be addressed.