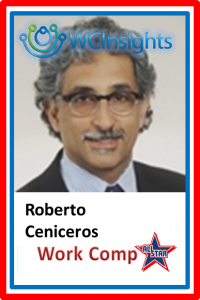 Roberto Ceniceros is a seasoned journalist whose columns feature news and analysis about workers' comp and insurance practices. He was recruited into the market when he started writing for Business Insurance 19 years ago. Now the senior editor, he admits he has found the industry much more interesting than anticipated and he took the time to talk to WCInsights about what's happening in the comp world.
He recognizes that the workers' comp practices might not ever change too dramatically due to the amount of vested interest and influence employers, vendors and insurers have in the way the system works. That being said, there is one development he is keeping an eye on.
"The Oklahoma Experiment", as he says, might be one of the most significant things to happen to workers' compensation since its beginnings. Employers are allowed to create an alternative to the workers' comp medical system, not quite an opt-out but a system that allows more freedom and choices. Employers need to have a benefit plan that meets the standards set by the Employment Retirement Income Security Act, but they do not have to buy workers' comp insurance. He says many people in the industry do not think the Oklahoma system will have a great national impact because it is small in relation to more influential states like California or New York. Since national employers made a push for this system to be put in place, he says it is one story to follow.
"The rest of the country is watching. If it's successful, you will have more discussions from states," Ceniceros said.
He thinks comp faces a challenge caused by evolving and additional complications entering the system. Obesity and opioid abuse are two problems that are now being brought into workers' comp conversations. In addition to the services they have already been managing, employers now have to utilize and pay for vendors to address these new issues.
"It's the problem of managing the new services that are emerging, and it's hard because workers' comp is already a complicated industry."
Ceniceros thinks workers' comp is only going to grow in complexity, part of the reason he attests that the Oklahoma project is so important. Check out his blog, Comp Time, or any of his articles at Business Insurance for even more thoughts.