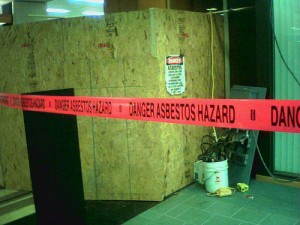 An interesting ruling from a bankruptcy judge might set a new precedent for asbestos-related compensation cases. The question is- is the ruling in this case an outlier or is this the new standard?
Garlock Sealing Technologies manufactured gaskets, and had filed for bankruptcy in 2010 after they were over-burdened by paying out asbestos claims. When manufacturers file bankruptcy due to asbestos claims they are granted immunity and can still operate IF they meet certain requirements. They must set up a trust which will pay former and future claimants for their illness.
In the past asbestos was widely used in manufacturing but now workers are feeling the effects in the form of mesothelioma or other kinds of lung cancer. The industry is still paying the price for its use of asbestos; these kinds of cases are now the nation's largest mass tort. They have caused 100 companies to file bankruptcy and have seen over $50 billion paid in compensation.
In this particular case the plaintiff's attorneys wanted Garlock to allocate 1.3 billion to settle a mesothelioma claim but Garlock argued that that was too much and they might not have even been wholly responsible for the claimant's symptoms. The judge in the case, Roy Hodges reduced the liability rate to 125 million, or 90 percent of the original amount. The judge said he thought the lawyers may have manipulated evidence to get more money out of Garlock, when the plaintiff's symptoms may have actually been caused by other products besides the asbestos at Garlock. Lawyers say the judge is ignoring years of asbestos cases and the precedent set by those cases.
This has the manufacturing industry talking. They are already using the outcome of this case in arguments against other asbestos cases and Garlock is now filing suit against law firms for racketeering. Judge Hodges said he was troubled by lawyers who had settled with one asbestos trust and then continued to seek damages from other trusts, as he said was the case in several of Garlock's past settlements.
It is only fair that manufacturers be held responsible for the damage their work environments may have caused their employees. Workers' comp was created to protect employees and they should receive benefits that cover costs related to their injuries. Oftentimes we talk about employers taking advantage of their employees, but maybe this ruling is a push back against cases where that role is reversed. Some employees might take advantage of companies and payouts because they know that the law might be more sympathetic to the worker. I can see both sides of this argument and I am interested to see what this might mean for future claims cases.