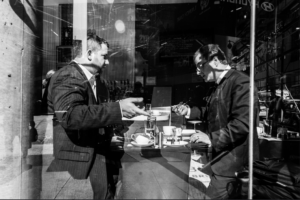 A salesman who suffered a heart attack after a lunch meeting with his boss, where his boss told him he needed to increase his sales, claimed that his heart attack was caused by an acute stressful work-related event. He filed for workers' compensation.
Donald Brown worked for the Grand Eagle Company starting in 1987 and became an outside salesman. His duties included calling on clients and prospects, and he would sometimes fill in for managerial staff. In late July of 2000 he started a twelve-day sales push. The first four days he was making sales, the next four days he entertained clients at the Brickyard 400 Speedway in Indianapolis, and then he worked for another four days after returning from that trip. Every day he worked was over 90 degrees. He had a lunch meeting with his boss August 10th, 2000, where his boss told him that he needed to increase sales. Brown went home after work that day and had a heart attack; he had a triple bypass two days later. He did not work for three months and returned to work on orders from his doctor to only work half days. He was let go in a round of layoffs in 2001. He filed for workers' compensation, saying that his injury was work-related.
Brown's doctor, Dr. Rankin had retired and so Dr. Janet Lubus, who took over his treatment, had to rely on Dr. Rankin's records which showed a history of depression and stress in Brown's life. She determined that there was no evidence that either condition was job related, and depression and stress alone do not really trigger heart attacks. An independent medical examination from Dr. Stephen Dill showed that Brown had coronary artery disease. The heart attack was likely brought on over time by a narrowing of the coronary artery. None of the physicians felt that it was brought on by a stressful or traumatic event.
Though the days preceding the heart attack were hot, and though his boss had told him that he needed to increase his sales, the court decided neither of those things were out of the ordinary enough to be labeled a sudden stressful or acute event. This was late July/early August in Tennessee, where it can get hot. The meeting with his boss was cordial; there were never any raised voices. The court considered this communication to be part of the "normal ups and downs" of employment. His injury was not compensable.
He appealed and the case went to the Supreme Court of Tennessee Special Workers' Compensation Appeals Panel. They upheld the Panel's decision and denied Mr. Brown benefits.