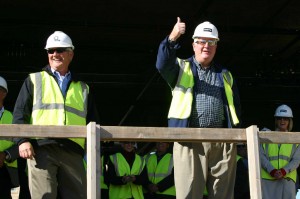 A welcome story from the west coast proves that with proper precautions and a focus on safety, construction zones can also be safe zones. The team that is working on a tunnel on Highway 99 has been free of injuries that forced workers away from work for over 3.25 million hours.
As a reward for their diligence, Seattle Tunnel Partners (STP) is being awarded a 32 percent discount on their workers' comp insurance rates. The fine print being that the project has been slowed down because of a failed drill, so maybe there are fewer opportunities for workers to get hurt in the first place. However there are about 400 people still working on the entrance and exit to the tunnel as well as ramps and a building. Overall, almost 4,000 people have been working on the site for over three years.
This is not to say the site has been entirely accident free. There were a few injury claims filed and the workers saw doctors for minor treatments. The company also had to pay a fine when one of their workers suffered a chemical burn. STP has since installed a wash basin and now provides better protective gear.
Across the state construction safety statistics are not great, so it is heartening to hear that these projects are relatively free of injury. In Washington in 2013 there were over 2,000 reported construction related injuries that required time off. Thankfully there were no fatalities in the state that year.  STP says they don't think they do anything that is unique to try and stay safe-they just insist on good safety practices. They also try to find light duty work when possible so that their workers still have a job to do even though it might not be their usual position.
The VP of the Seattle branch of the American Society of Safety Engineers, Brian Van, said that any experience factor under 1 (a factor determined by the Labor & Industries board) denotes a good employer. STP scored a .68 while other firms building similar tunnels scored a .75 and .77.
Among other precautions, STP makes sure employees are always wearing gloves, are harnessed when they are 15 feet away from a ledge or four feet from a lower level, and complete an "Activity Hazard Analysis" before starting a new task.