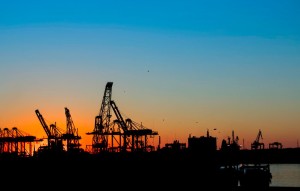 When it comes to employee injuries I tend to think of shipbuilding as one occupation that might have a lot of them and have high work comp rates as a result. A filing from the National Council on Compensation Insurance (NCCI) shows that the workers' compensation rates for waterfront workers in Virginia are going down.
Many of these employees are covered under the Longshore and Harbor Workers Compensation Act, including the dock workers and almost half of the Newport News Shipbuilding employees. This law covers certain maritime workers who are injured or killed while they are working near the water. Ninety percent of the shipyard's total compensation claims were accounted for by workers covered under this act. The total number of their claims actually decreased by five percent and NCCI's filing was for a 1.2 percent reduction in comp rates for those covered by insurance companies, and a 1.7 reduction for those with assigned risk.
In the rest of the state, rates are increasing by 3.4 percent for those in the voluntary insurance market and a 2.3 increase in rates for assigned risk employers. The frequency of work comp claims is decreasing in every industry in the state, however. In 2006 they saw 15 claims per million in premium dollars, and in 2013 they saw 13.5 claims per million.
Just because frequency is down doesn't mean medical costs in Virginia are. In fact they have increased by 38 percent in that same time period to average $51,075 per case. Medical costs make up 65 percent of the state's average claim's overall costs, but for shipyard workers medical costs make up 44 percent. The rest can be made up of things like lost time wages, but in shipbuilding where there are elevated wages that could be a bigger worry for their insurer than medical payments. This kind of occupation also sees a lot of permanent injuries that generate lost time payments which could account for the discrepancy between medical cost and loss pay.