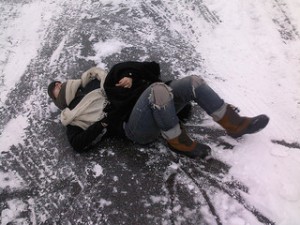 Looks like Punxsutawney Phil has been right in his prediction thus far. Since February has proven to be no less snowy and icy than January, I am using this post as an opportunity to re-iterate the importance of protecting your workers from dangerous slip and fall injuries. Whether you work at a banana peel factory or a typical office building, it is important to be vigilant about slippery patches that could be disastrous for your workers and put them out of commission for a long time.
The "Slipperiness Score" comes to us from the University of Michigan, whose Healthy System study has developed a system to measure the conditions for walking around. Much like you see the "ozone alert" on the weather, the slipperiness score helps to let people know what kinds of risks to expect outside. They looked at conditions like snow, wind speed and temperature. The study was focused on Medicaid patients over the age of 65 (a prime group at risk for falls) but really it applies to everyone during the colder seasons.
"Although the concept that slippery footing increases your risk of falling isn't new, what we've been able to show is that these dangerous conditions result in more fractures in this already vulnerable population of adults," says lead study author Aviram Giladi, M.D. who works in the university's Department of Surgery.
The study established a scale from 0-7 where each day could possible fall on the slippery scale. On a day with a ranking of 4, the risk of sustaining a wrist fracture from a fall increased by 21 percent. The most slippery days saw that figure rise to 40 percent. Compared to spring or summer, the winter season brings another 1,000 wrist fractures to adults age 65+.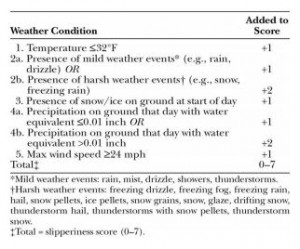 This comes on the heels of another study from Johns Hopkins which suggests that the leading cause of serious traumatic spinal cord injuries is falls. The study also shows that these injuries, whose symptoms vary from mild numbness to paralysis, are rising amongst the 65+ age group as well. This brings a whole new bout of financial burdens on the comp system, the study estimates that emergency room costs alone for these kinds of injuries totaled $1.6 billion between 2007 and 2009. Add to that costs due to complications and inpatient stays, follow-ups and the bill really starts to add up.
Check out the university's guide to falls and some prevention and treatment techniques here.
The workforce is aging and the new "elderly" are much more active than generations before them. This is a dangerous combination that employers should be aware of, especially if they have a large group of older workers who are more prone to falling injuries anyway. The cost of treating fall injuries lies at about $240 million a year. Understanding the risk, especially on a daily basis, could go far in preventing a lot of unnecessary injuries to your workforce and a lot of unnecessary burdens on your bottom line.