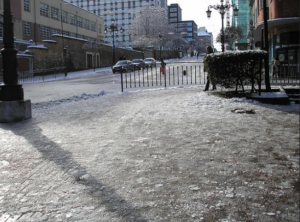 We may be in the midst of a heatwave but we're talking about an injury that happened one cold and icy day in Oklahoma. The Oklahoma Supreme Court ruled, in a reversal of a lower court's decision, that a workers' slip on the sidewalk next to an employer owned parking lot is compensable.
Annette Legarde-Bober worked for Oklahoma State University at their Oklahoma City campus as a teacher at their child development lab. She had an assigned space in a parking lot on campus where she had to park, the lot was owned by the university. The lot and the sidewalk leading from her building to the lot were all maintained by the university as well. March 4, 2014 was a very cold and icy day and though other businesses in the area were closed that day the campus was open and she did not have the kind of job that allowed her to work at home. She got to campus at 8:55 just in time to start her 9 a.m. shift when she slipped on the icy curb getting to the sidewalk from the parking lot.
She sought benefits for the treatments from her fall, and the university denied her benefits saying that her fall did not arise within the course and scope of her employment. She was not yet performing her job duties, her employer argued. An Administrative Law Judge also upheld her employer's argument that she was not performing her job duties at the time of the accident.
The state Supreme Court said that she was within the course and scope of her employment because her actions when she was injured were to further the interests of her employer, and she was on employer owned property at the time of the fall. They told her which building to report to and required her to park in that particular lot. The facts of this particular case did not qualify for any exceptions to the course and scope statute- it had nothing to do with her commute to and from work, it was not a "common area" parking lot, it did not occur on her break.