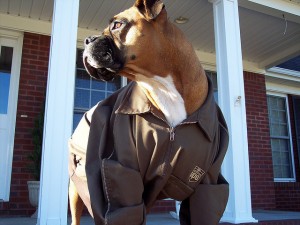 I have read some stories about workers who claim they are suffering from PTSD after they've broken a nail or bruised their egos by tripping in front of everyone at the workplace. While traumatic, I don't think they quite warrant compensation. Recently I read about a UPS driver who was hijacked, and I think that his story is deserving of a little restitution. The West Virginia Supreme Court agrees, and has decided that his workers' comp claim is compensable.
On August 11, 2010 Jary Hannah was a UPS truck driver when his vehicle was hijacked by a rifle-wielding man in Wirt County, West Virginia. Allegedly, the man fired a shot in the air next to the driver's side door. Then he threatened Mr. Hannah's life, got into the truck and forced him to drive to the police station. On their way, the gunman saw a police cruiser at a gas station so forced Mr. Hannah to pull over there instead.
Then he took the keys from Hannah, got out of the passenger side and fired a shot. Mr. Hannah escaped his side of the truck as the gunman was getting out and Hannah was able to hide behind a store. The gunman was later in an altercation with police and was fatally shot.
After the incident, Hannah went to see a counselor and was diagnosed with PTSD. He suffered nightmares, hyper-vigilance, depression and sleep disturbances. He filed a claim in October 2010 but was denied by a claims administrator who said psychiatric injury was not grounds for a legitimate claim.
Hannah appealed and the Office of Judges initially sided with the claims administrator. The Board of Review overturned that decision in November of 2011 and sided with Mr. Hannah. When UPS appealed the case, it went to the state Supreme Court who affirmed the Board of Review's decision. The court said the nature of the injury was also physical, as he was detained and assaulted by the sounding of gunfire. They pointed to his resulting physical symptoms of sleep disturbances and jumpiness.
That day's route was not Hannah's usual route; he was substituting for a driver who was out sick.
"We are not allowed to carry guns," he said. "This was the first time something like this has happened. There have been cases in other areas when someone tried to rob the truck, but this was probably the only time a driver was held as a hostage."
Something like being held hostage and having shots fire around you is a little more traumatic than getting a paper cut so I agree with the court's decision. Especially with the holidays coming up, I am sure a lot more mail trucks or package delivery drivers will be targeted. We can only hope that nothing this serious happens and if it does, that the worker be compensated to getting the resulting help and care that they need.
Source: West Virginia Record