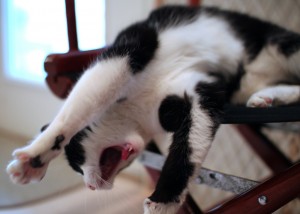 A lot of our articles have looked at the topic of whether workers are "fit to do the job". But one component of fitness, maybe the most overlooked, is flexibility. Being flexible goes a long way in preventing injuries like strains and sprains and even more severe injuries. One Kentucky agency is doing something to try and fix that.
The Metro Public Works department in Louisville used to see their road workers and sanitation workers suffer sprains and strains that would put them out of commission for months. The department has since implemented a morning stretching routine, lasting between five and ten minutes, that has cut their workplace injuries in half over the past two years. It's not just the workers that do the heavy lifting that get involved in the morning stretch; it's the administrative team and other desk workers too.
The Safety Training Manager, Chris Scamahorne, said that it is important to maintain a healthy workforce because if they're out of work due to an injury, the department suffers when work isn't getting done. Now he says the OSHA reportable injury rate is declining as well as their lost time rates.
"It's a win-win for the department," he said.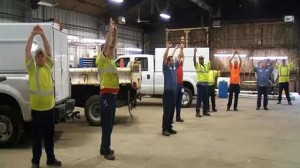 Though the department's stretching routine has worked, injuries still happen. With respect to that, they have also implemented a new return-to-work policy that lets injured workers do administrative work so they can keep their salary and their benefits while giving them a chance to get healthy. Before these new policies took place workers were not allowed to do any kind of work until they could return to their normal duties. The department has also noticed that work in any capacity, even if it's not in their normal role, seems to speed up the healing process.
The department also runs weekly safety talks and daily job site safety audits. A spokeswoman for the Public Works department, Julie Toler, said their efforts have saved the city money in workers' comp claims and overtime for those who had to make up work when someone was out due to an injury.