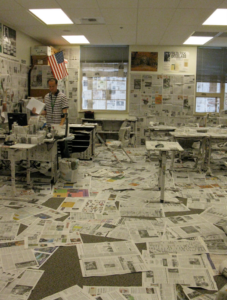 There are always exceptions to the rule, and this case in which a teacher was injured because she had to park beyond her normal parking lot was deemed compensable because of the circumstances of the case.
In the case Field v. Pinckneyville Community H.S. Dist. 101, an art teacher who tripped while walking to her car was awarded benefits and partial disability. The school where she worked was implicit in the annual "Senior Prank Day", and on that day the normal teacher parking lot was blocked by student's cars. This blocking of the lot was sort of a known tradition of this day. So she parked next to the football practice field which was across the street. She crossed over an uneven grassy surface to get to the school and fell, fracturing her left leg.
An arbitrator determined that this event was within the course and scope of her employment. The school had played along with the prank, and knew that students might block the normal teacher lot. Having to park farther away meant that she encountered abnormal conditions, and she took the most direct route she could to get to school so she was on a reasonable path to get to work. Since she was also one of the "targets" of the prank, it was determined that her job put her at greater risk of harm than had she been a passerby.
She was awarded permanent partial disability benefits based on a 35 percent loss of use of her left leg, and medical expenses of $80,791. The workers' comp commission affirmed this decision.
Read more about this case here and here.