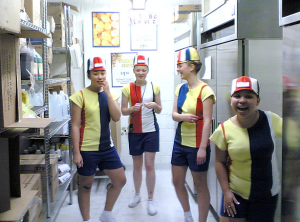 Do you remember your first job as a teenager? I sure do, and I can tell you that as a naïve teenager working in a bakery I thought nothing of minor burns or open flames or lifting heavy bags that were definitely over my limit. I thought it was just part of the job. Many teens who don't have any work experience might accept dangerous conditions as "normal" either because they don't know any better or they are afraid to speak up. One state is trying to teach young workers how they should be treated at work with a safety program for teens.
Oklahoma recently passed a law that would ensure that workplaces collaborate with schools to provide worker safety education at school. Seventh-graders through twelfth-graders would receive this curriculum. The program is titled "Youth @ Work Talking Safety: A Safety and Health Curriculum for Young Workers" and incorporates lessons about how workers can be hurt and how to reduce risk of injury, what to do if there is an unsafe situation and legal rights. A presentation can be downloaded off the state's website.
Teenagers who work summer jobs or weekend jobs to try and earn extra money are often vulnerable at work. They are twice as likely as older workers to be hurt on the job, with someone hurt every nine minutes. It is estimated that just under 60,000 teen workers end up in the ER because of a work injury every year but authorities think that number is much higher, as many are unreported. Often these injuries occur in the first couple months of their employment, possibly because of the meager safety training they receive-if they receive any training at all.
Hopefully this training will spread to other states and teen workers can become better educated on workplace safety.