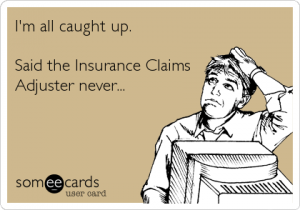 Being a workers comp claims adjuster is a difficult job.  One does not usually just wake up one day and say "I want to be a work comp adjuster today", in my discussions and interviews with adjusters it almost seems like more of a calling.  A true desire to help individuals who are injured get compensated while also returning to work in a respectable amount of time.
With age comes experience, according to stats from the US Labor Bureau the average claims adjuster was 42.6 years of age.  This mean that as the years progress these adjusters will be reaching the age of retirement.  That also means that all their knowledge and expertise will be leaving the company that they work for.
Employment in the claims adjusting field is expected to grow by 3% through 2020, this is the slowest growing occupation that is out there.  That means not only do you have an aging workforce that looks upon claims adjusting as an art – full of knowledge and experiences that help them to make conscious decisions regarding a work comp claim, but now you have younger group of adjusters coming in that have not experienced all the varieties of claims that can come across their desk and know how to handle them.  There are also less people looking to make the jump into the profession.
So how can we keep claims adjusting as an art and not just a job?  One of they keys is training, although it seems as if a lot of companies have kind of ramped back on all the training.  I know adjusters need to keep up CEU credits which always helps to learn new things.  The other way is technology – insurers are now looking into decision making tools that can help lead an adjuster down the appropriate path to make the jurisdictionally responsible decision.  While there are tools that are out there – not many can say that they can act as the adjusters right hand.
One large benefit to the younger adjusting force is that they embrace technology more so than the aging workforce.  I mean it is very hard to find a recent college grad who does not have a smart phone (although I do know of one), an iPod, an iPad I mean the youth relies on technology to live their day to day lives.  So as they make the choice to become claims adjusters they need to not only embrace the art but also embrace the technology.  Claims these days are becoming more complex especially with the number of CPT codes and the conversion of ICD-9 to ICD-10.  Adjusters also have to manage around 130 open claims, they must do all this while chasing down medical bills, notes, returning calls, etc.  Having technology that can help is key today.
Again I have spoken to many adjusters who love their job, who view it as a calling to help people and who take their craft as an "art".  As part of the younger workforce myself embrace what I do as well, but know that I could not not do my job effectively without the benefits of technology.  I would love to hear from some of our adjusters out there on how they view their positions and how or if they embrace technology to handle claims.
Again this is Y.O.T.A. – The Year of the Adjuster, how can we make your already difficult job easier for you to do so that you can craft your art and help our injured workforce?