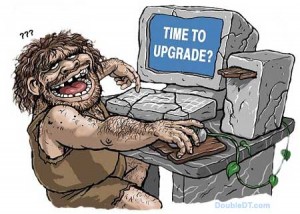 Most insurance carriers, both large and small, have an extremely complex maze of systems that are the core of their business.  From a policy system to a claims system, to an RMIS system, a billing and managed care system, claims shops are dealing with a maze of a network.  This results in many disparate systems that, though they do the necessary tasks, can be a hindrance in the world of ever-changing technology and risk- although it may be difficult to see.  In the insurance industry where people are paid to evaluate and assume risk, they are usually very risk averse themselves.  The general consensus seems to be that as long as the job is getting done and a small profit is still being turned that the status quo is deemed as acceptable, maybe even desirable for some.  We live in a world of big data – everything is based on data, data, data. Our phones track data, the websites we visit track data and constantly show what we visit as ads to make us want to buy more.  As an insurance carrier, wouldn't it be great to be able to have all of your systems communicating as one even if you are running 10-14 core systems?  What if this could be done without the great expense of a rip and replace of your legacy systems?  What if it was possible to have all your disparate systems communicating with each other, sending data back and forth and giving you highly detailed analytics-all without any upfront capital and strain on your already overworked IT department?
Do companies that have legacy systems or are smaller in size, without the funds of the top organizations, lack a competitive advantage?  One could argue that the companies that are replacing core systems with the newest technology will have an advantage to expand into new markets quickly, underwrite the competition, and have better data to know where they can afford to be risky.
Insurance companies invest a ton of spend into their adjusters, after all they are the front line for claims defense.  Adjusters not only need to evaluate pages of documents on hundreds of open claims, they also are the line of communication between the company and the injured party.  In a recent survey conducted by Acrometis in regards to adjusters it was discovered that adjusters spend 73% of their day following up with doctors or patients and tracking down medical documents-either from a physician or in their internal systems because there is no good way to sort and find a document when a party calls in looking for updates.  What this does is cause your adjusters to be in a constant battle with the claims. Wouldn't it be great to get them out of the minutia of administrative work and ahead of claims, in the field with the injured parties, all the while closing claims faster.  This is all possible without going through an intensive upgrade – instead let's evolve and enhance the current systems.
In a recent article published by Acrometis titled "Can Your Operation Afford To Wait For Your Claims System Upgrade" , five reasons are discussed as to why it is operationally important to evolve and enhance your claims system ahead of costly upgrades.  Acrometis and their family of products, with CLAIMExpert at the core, have shown dramatic results in reducing claims handler workload by 40% and reducing medical spend by an average of 35%. Here are a couple of the reasons why you should not wait to enhance your claims system:
Start seeing bottom line savings DAY ONE – CLAIMExpert reduces medical spend dramatically day one. Outcomes are
improved day one. Operating efficiencies are realized day one. Bottom Line – Implementing CLAIMExpert is a cash positive event day one.  Most claims systems upgrades can take up to 18 months or longer.  Since CLAIMExpert is cloud-based it can be implemented in as little as 90 days.  Also since Acrometis handles the bulk of the implementation efforts your overworked IT staff will not be impacted and can focus on a long-term upgrade.
CLAIMExpert actually simplifies your system upgrades – A constant challenge in workers' comp operations is managing the heavy demand on IT resources to modify connections to providers and update claims processing rules. Add a complicated claims system upgrade to this already significant workload, and the strain on the IT department's already limited resources can become crippling.  But adding CLAIMExpert to your current claims operations can free up those IT resources to better focus on the longer-term claims system upgrade, because all network connections and rules are managed by Acrometis. Simply explain your business needs, and we take it from there. We take responsibility for your connections with all external partners, making it easy for you to adjust your provider.  When you ultimately move to your new claims system, Acrometis need only make the necessary connections between CLAIMExpert and your new system. All of your other connections through CLAIMExpert will immediately migrate to the new system as well.
To continue reading about why you should evolve and enhance your claims system ahead of a major upgrade click … 
The bottom line is that not all claims enhancements need to be a headache or be financially draining.  Truth of the matter is that many claims shops are in love with their current environment and they just wish there was an easier way to move data between core systems.  Acrometis can help to make your claims environment seem like one robust enterprise with more data for actionable analytics then you ever thought possible.  This makes management happy.  Your adjusters will love the time that they get back in their day and use it to put out the fires on a claim before they spiral out of control. No longer will they spend hours a day searching for a document – they will be able to answer that physician's question while on the phone with them in only a few mouse clicks with ClaimQuik – available on every Acrometis product.  There is something to gain for every person and level of the organization.