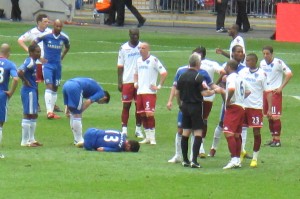 World Cup? Work Comp? Is it coincidental that we can use WC interchangeably throughout this article?
It's officially World Cup time, and since all my regularly scheduled shows are on summer hiatus I find myself watching a lot more soccer than I normally would have. But one thing this fair weather fan is noticing is that soccer looks pretty intense. These guys endure a much harder time of it than I did when we were kicking the ball the wrong way down the field in pee-wee leagues. I don't know if I can get any work comp for the heart attacks I suffered watching yesterday's game but I imagine the pros are looking into compensation should they get injured.
Did you know Christiano Ronaldo's legs are insured for roughly $140 million? After we've seen him with ice packs on his knees this tournament I'm sure his agent is sweating a little bit. David Beckham, who retired (but is rumored to be coming back), had his legs insured for almost $200 million and his face for close to $55 million. That part probably isn't so related to the sport he plays as the magazines he poses for, but models work hard too.
On average players run an average of 6.4 miles per game, which might be enough to beckon an injury on its own. They've also got to put up with flying elbows, cleats and other obstacles as they stay light on their feet to try to score. The goalies are doing somersaults through the air and trying to catch balls with their pinky fingers. Soccer players are joining the ranks of other professional athletes claiming work comp injuries.
The majority of soccer injuries are to the ankle, knee, hamstring or head. I feel like I've already witnessed a few mild concussions after someone intercepts a pass traveling 75 mph on their temple. Head injuries can build up as cumulative trauma injuries and many players don't even start to think about comp until long after their career is over.  Something that some professional sports players have done is file an "occupational disease" claim, which would come from working a job where the employee is at higher risk than the general public for that condition. This is a worldwide stage but we've got soccer players at home who have already filed claims. Here is a chart, specific to California, which gives you an idea of the kind of claims filed by major league players.
Imagine we're in October of 2015 and ICD-10 codes haven't been pushed back again. What might an adjuster note if a soccer player's claim file ended up on her desk?
W2102xS- Struck by soccer ball, sequela
Y92322- Soccer field as the place of occurrence of the external cause
S93401A- Sprain of unspecified ligament of right ankle, initial encounter
S060x0A- Concussion without loss of consciousness, initial encounter
W2131XD- Struck by shoe cleats, subsequent encounter
I don't know if I'd go as far as to accuse some of the players of work comp fraud, but a lot of them seem to sprain their ankle and then get up and continue to run around for another 50 minutes. Maybe it's that magical spray… But a lot of them are also legitimately injured. I know my days at the office don't include headers and cleats to the nose. Here's to hoping the USA stays injury free and can pull out a few more wins this World Cup!