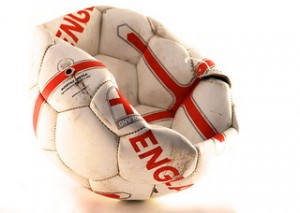 An article in The Guardian reports that thousands of migrant workers flooding to Qatar to work on the 2022 World Cup site might be risking more than they bargained for. The International Trade Union Confederation (ITUC) is anticipating over 4,000 deaths in the construction fever.
More than half a million workers from places like Nepal, India, and Sri Lanka are heading to Qatar to help complete the structures needed for the event. The ITUC  says that the migrant workforce in Qatar has reached 1.2 million, most of whom are in construction. They say that the cause of death is difficult to determine in many cases because autopsies are rarely performed or the death is habitually attributed to heart failure. They report that workplace conditions are harsh and living quarters are cramped and dangerous.
Workers have reported working in hot conditions and being denied drinking water, while disease runs rampant in their residencies. Employers are allegedly withholding salaries or passports, meaning the workers are stuck without anywhere else to go. The Indian embassy reports that 82 Indian workers died in the first half of this year alone and more than 700 died between 2010 and 2012. Thousands more have complained about conditions.
"The evidence-based assessment of the mortality rate of migrant workers in Qatar shows that at least one worker on average per day is dying. In the absence of real measures to tackle that and an increase in 50% of the migrant workforce, there will be a concomitant increase in deaths," said Sharon Burrow, the general secretary of the ITUC. She said their organization is convinced that poor living and working conditions are directly related to the workers' deaths.
Officials in Qatar have stated that they are just as appalled by the findings and are committed to the safety of their workers.
Qatar is the world's richest country, and with all the money they are spending on the event they should focus on using some money to improve conditions for the people that are making it possible. This is 2013 but this sounds like they are building The Pyramids or The Great Wall of China. The World Cup is one of the biggest events in the world, and Qatar should know that people are watching. Thankfully it sounds like labor unions have taken notice and will keep pushing for something to be done before the death toll really starts to rise.