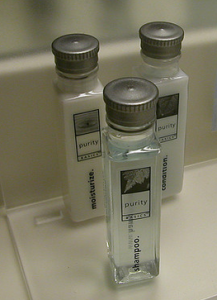 Do you ever think about the whole companies dedicated to making those tiny hotel shampoos? I guess someone's got to do the job, but unfortunately it appears that one company is not up to standards when it comes to safety at their facilities.
The Marietta Corp. is a big name in the tiny sized products you find stocked in many hotels. During an inspection at their Cortland, NY facility last November, officials from the Occupational Safety and Health Administration found that workers were exposed to fire hazards and chemical hazards. They found improper storage of flammables and improperly labeled chemicals, and blocked emergency exits. OSHA representatives went there after they had received employee complaints. The company faces just over $100,000 in fines and six serious violations of safety standards.
KIK Custom Products, who now owns Marietta, says that they are contesting some findings and have sent OSHA evidence that they did not violate certain safety standards they were accused of, but they are taking steps to address any issues at their facility.