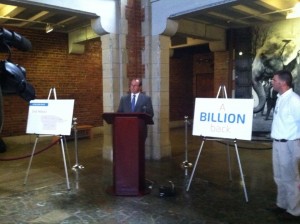 Pictured to the right is Steve Beuhrer – Director of Ohio BWC, this is a picture courtesy of Ohio BWC Twitter showing Beuhrer presenting the Toledo Zoo with their rebate check.  This is part of a billion dollars worth of refunds in the state of Ohio.
The BWC began printing checks the week of June 24th and will continue through July 12th.  The check are being printed by policy number so in theory the longer you have been a customer the lower your policy number and the faster you will receive you rebate check.
We have reported on this story before, it is good to see that the state moved in the right direction and was able to offer a rebate.  They state is was due to good investments, a trend that is not guaranteed so the policy holders should be thankful it worked out this year.