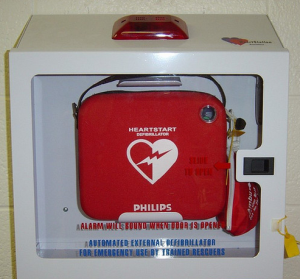 Do you know CPR? Do you know if any of your co-workers do? In an article from the Occupational Health and Safety online, a first aid trainer advocates for training employees in this life-saving procedure and basic first-aid.
Robert "Bo" Hanna is the focus of the article and has worked for many years training people in CPR and first aid. If an employee suffers a heart attack at the workplace, their odds of surviving significantly increase if they can get treatment right away (CPR from a co-worker). The time they wait for an ambulance is precious. Your office could also install an AED and train employees in how to use one, as these devices can go a long way in saving someone's life if they've had a heart attack.
Hanna also says that the simple knowledge that co-workers are trained in basic first-aid and CPR is reassuring to employees, and that trained employees may have more foresight and spot or correct unsafe conditions around work. A refresher course may be helpful to help employees remember the skills they learned, OSHA recommends at least once every three years for first aid and annually for CPR.
The Occupational Safety and Health Administration (OSHA) actually requires first aid training for organizations that are not within reasonable distance of a hospital or clinic, so if you're working in a remote area you definitely want your employees to have some first aid training and have a kit on hand.
Training employees can also reduce your insurance premiums, and may reduce your risk of lawsuit. As an employer, figure out what kinds of risks your employees are likely to face and take that into account when deciding how to train your employees. If they face risks that may fall outside the standard training you may want to have a special section on treating burns, blood or other site-specific hazards.