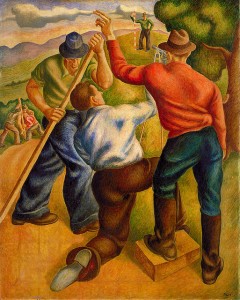 The University of Connecticut just released a report on the state's rates of occupational diseases for the past few years, and while the numbers look better than they did a few years ago they still have one of the highest rates of occupational diseases in the nation.
Occupational diseases might be a little more difficult to monitor than injuries on the job because they tend to take a longer time to develop and the worker may be at a different job at that point, and the source of the disease can be hard to pinpoint. But they can also be a costly consequence of an unsafe workplace, both in terms of your employee's health and your work comp premiums.
The study used data from three different reporting services, the Workers' Compensation First Report of Injury cases (WCC), physician's reports files under the Occupational Illnesses and Injury Surveillance System (OIISS) and the Bureau of Labor Statistics/CONN-OSHA Annual Survey (BHS).
They found that the highest reports came from musculoskeletal related cases, things like tendonitis or Carpal Tunnel Syndrome. The rates for respiratory diseases and poisonings were in second, things like black lung or asbestos poisoning. In 2012, the state had the highest rates in the nation for all categories of occupational diseases besides those labeled as "other"- overall 21.9 out of every 10,000 Connecticut workers reported an occupational disease. Their musculoskeletal disease rates alone were 31% higher than the national rate. Common causes of musculoskeletal disorders included lifting, pushing/pulling, using tools like power tools and computer work.
The industry sector with the highest reported rates of occupational disease was the Natural Resources and Mining segment (which includes farming). They reported 76.3 cases for every 10,000 workers. Manufacturing reported the second highest rate of cases with 40 out of every 10,000 workers developing an occupational disease. Government workers took the third and fourth spot, with local and state employees reporting 39.8 out of 10,000 and 35.1 out of 10,000 workers, respectively.
Mental stress claims increased by 60% in 2012, which the study attributed to the Newtown school shootings. Though categories of diseases that have seen decreased rates are things like hearing loss, and temperature related conditions from extreme heat or cold. This could indicate better safety precautions or better utilization of equipment.
Some attribute the state's high rates to just more diligent reporting, or the prevalence of hazardous industries in a smaller state. In any case, it is important to be aware of occupational diseases, especially ones that are prevalent in your state or industry, so you can focus on preventing them. The report out of UConn also includes a list of resources for help and safety tips.
The chairman of the Connecticut Workers' Compensation Commission, John Mastropietro, had some wise advice for businesses not just in his state, but across the country,
"Prevention is always better than compensation."