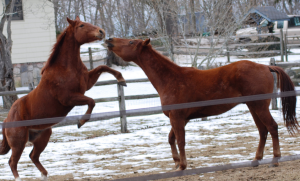 A South Dakota court has ruled that an employee, who was injured after "horseplay", is still eligible for workers' compensation because his injury took place within the course and scope of his employment.
Jason Petrik worked for JJ Concrete, Inc. and his job as a concrete laborer meant that sometimes he and other workers would wait for other work to finish up before they could start their portion of the job. These "idle" times were not unusual and employees usually tried to clean up and finish up other little tasks before they could begin their job. Petrik said that in these times he and his co-workers would play tricks on each other.
On a hot day in August of 2012 the workers were waiting on the job site and some workers were in an air-conditioned employer owned truck. Petrik wanted to sit in the truck too but it was full, so he fooled another employee, Kevin Cole, out of the truck and proceeded to take his spot. When he left the truck, Petrik started running away from Cole and in the chase, jumped over a trench they had built to hold concrete footings. It was an awkward landing and he broke his ankle. He told his employer about the injury and Cole took him to the hospital.
When Petrik tried to get workers' comp benefits for his injury, JJ Concrete and their insurer did not think they should be responsible for his medical bills or TTD benefits. They said they prohibited horseplay and his actions were not in line with his employment, nor did his actions promote the interest of the employer. Petrik said his actions were in the course of his employment, because horseplay should be expected if there are essentially "repeated and mandatory lulls" in their day.
The Department of Labor reviewed the facts of the case and decided that his company was not responsible for his benefits, which Petrik appealed. The state's Supreme Court decided that his employment did contribute to his injury and employees could probably be expected to engage in horseplay, given the circumstances of their employment. They found that reasonable horseplay was often tolerated on the job sites. They decided Petrik should receive benefits from his employer and their insurer.