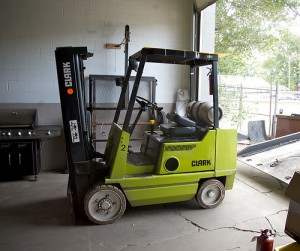 National Pipe and Plastics Inc. of Vestal, NY has been cited by OSHA for 16 serious violations of workplace standards after a worker for another company was struck and killed by a forklift being driven by an employee of National Pipe on March 22nd.
Two of the violations were directly related to the death of the truck driver.  The driver was picking up a load of pipes. the forklift that was being operated did not have a functioning backup alarm and the operator did not a a clear view of the path he was reversing in.
National Pipe should have had their equipment properly maintained, the alarm should have been functioning.  OSHA also stated that they should have had safety protocols to address heavy foot traffic in that area.
OSHA also found several other serious violations including: surfaces that contained combustible dust, no handrails on exposed sides of stairs, ladders that did have slip resistant rungs, and broken stairs.
OSHA has proposed fines of $67,000.  The company has 15 days to comply or appeal.
As with all cases where we see people hurt or killed they can usually always be prevented in some way.  If companies introduce and enforce safety and health management systems and make this a high ficus area than we should see these cases decline.
Source:  WorkersCompensation.com