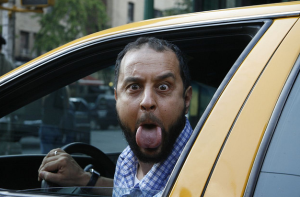 Here is another case that hits at the problem of whether Uber drivers are employees or contractors. One driver was working late-night when he was slashed in the face by a passenger and now he is seeking workers' comp benefits for his injury via a class action lawsuit.
Abdo Ghazi works as a janitor by day but drives as an UberX driver by night. Last November a passenger attacked him, breaking his nose and giving him four puncture wounds in his face. His assailant was apprehended by police and charged. Ghazi went to the hospital and received stiches, he still has issues with his mouth and will need more medical care and he suffers from some PTSD symptoms, claims the lawsuit. He had to take two months off of both his jobs though he is back to work now.
Since Uber does not recognize him as an employee he cannot get compensation through the normal workers' comp process and so he has filed a class action suit against Uber. The suit names other defendants like Lyft, Homejoy and other companies that provide services through a technology platform. The suit claims that by classifying drivers as independent contractors, Uber has an unfair advantage because they don't have to pay benefits or comp. Lawyers for Ghazi say a big part of their lawsuit is trying to convince judges that these tech-based companies should still be responsible for their workers.
California is a state that mandates comp coverage for taxi drivers who are not considered employees, and they estimate that coverage averages $5,000 a year for each cab in operation. Uber and similar ridesharing companies do not face these payments which taxi companies say is unfair. Ghazi's suit seeks class action status and an injunction, damages and penalties against Uber.