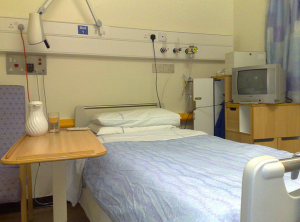 Maybe you remember hearing about this on the news last April, when a FedEx employee went on a shooting spree and shot six people at a facility in Georgia before turning the gun on himself. One of the victims has had a very tough time since the shooting and workers' comp payments are no longer enough to sustain himself and his wife who had to quit her job to take care of him. He is now suing FedEx for negligence and battery, among other charges.
Christopher Sparkman was working at the facility as security, his company AlliedBarton Security Services was under contract with that FedEx location at the time. His lawsuit alleges that FedEx managers knew that the employee was unstable yet failed to do anything about it until it was too late, and Sparkman was injured as a result. Managers at the site said that the shooter had made comments about going crazy and had a generally negative attitude, he had even threatened some co-workers in the months leading up to the shooting but managers did not take any action.
Sparkman is receiving workers' comp from his former company but says it is not enough anymore. His wife left her job to take care of him because his wounds are so severe, and he has been unable to work since the incident. He has been in and out of the hospital and undergone multiple surgeries, and is still in tremendous pain from the shooting.
Though not technically his employer, FedEx had given him $4,000 after the shooting. He is seeking more in terms of pain and suffering damages, lost wages and medical expenses.
I will be interested to see if this court does go to trial and what the results will be. FedEx is not his employer, but they contracted his employer to work for them. He would not have been in those circumstances had he not been working. FedEx says they did not cause the shooting event.