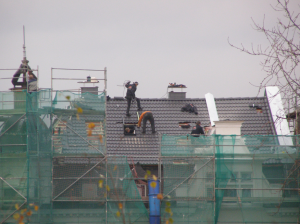 The owner of a Washington state roofing company has been charged with a felony after he continued to work without insurance after his workers' compensation coverage was taken away.
Peter Yeaman owned the Southgate Roofing company in Mason County and was found guilty of unregistered contracting and a felony count of operating without workers' compensation. He also must pay a customer $4,500 to make up for what they lost when they hired another to finish the job Yeaman's company started, once the clients found out he was not a registered contractor they hired a registered contractor. He had worked on at least one other house without coverage.
He had been cited six times before for working as an unregistered contractor, and twice for other infractions related to permits. He is on the state's Labor & Industries list of those who are not allowed to bid or work on public projects. His insurance was revoked after he did not pay his premiums. Roofing premiums are high, but that is because workers are put in a more dangerous position than most other kinds of workers as they do their job.
A judge ordered him to 10 days in prison which he can serve at home with electronic monitoring, but if Yeaman breaks the law in the next two years he will serve almost a year in prison for this offense. Not only does working without insurance give companies an unfair advantage, it also puts their workers in danger and if they are injured on the job they might not be able to rely on the safety net of workers' comp.
"This case serves as a warning to illegal contractors," said Elizabeth Smith, assistant director of L&I's Fraud Prevention and Labor Standards. "We will seek criminal prosecution of lawbreakers who refuse to register as contractors and refuse to get workers' comp insurance to protect their workers."
Yeaman owes the state L&I department $134,000 in unpaid premiums and $29,000 for unpaid fines he has accrued over the years.
If you are using a contractor to do work on your home, find out if they are registered and what each state's contractor requirements are on a website like this.