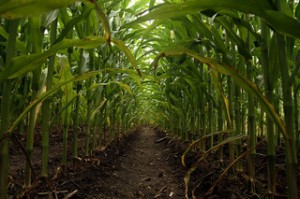 United Ethanol LLC in Milton, WI, has been cited by the U.S. Department of Labor's Occupational Safety and Health Administration (OSHA) with 15 violations following the death of a worker this past April. The worker was engulfed by corn inside a grain storage bin after he had gotten into the bin to try and unclog the chute. When the corn began to flow he was trapped.
The OSHA director for the area, Kim Stille, said that engulfment is one of the top hazards in grain facilities. She said employers need to be responsible for staying alert to engulfment hazards and taking necessary precautions to protect their employees.
The company received one willful violation for failing to lockout the conveyers used to empty grain bins, this failure was the reason the worker was exposed to engulfment in the first place. A willful violation means the act was intentional and they knowingly disregarded employee safety and health.
They were also cited for five serious violations of grain handling procedures including failing to guard floor chute openings, prevent exposure to moving grain, prevent workers from entering bins where engulfment hazards exist and failing to have an overseer present upon entry of said bins. When OSHA inspected the facility following the accident, the company incurred nine more violations and faces fines of $140,000.  They have also been placed in the office's Severe Violator Enforcement Program, and will receive follow-up inspections.
After 26 workers died in entrapment cases in 2010, OSHA has been focusing on the six major hazards of the grain industry. Engulfment, falls, auger entanglements, struck-by, combustible dust and electrocution dangers are all serious risks in the business and OSHA has taken steps to emphasize safety procedures and educate workers. More information and publications from OSHA can be found here.
Maybe I've got Halloween on the brain, but I only thought corn was dangerous when someone was being chased through a field of it. This story serves as a reminder of the size of the industry and all the possible hazards one could encounter by working in it. Drowning in corn does not sound like a pleasant way to go, especially when it seems like the employers knew the risks and still let their employee put himself in danger. Let's hope other facilities take note and step up their precautions.