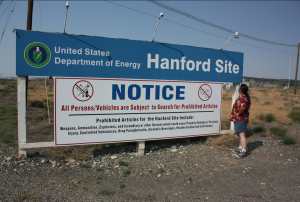 This summer we reported on a strange case out of Washington, where workers were seemingly getting sick off chemicals vapors but nobody could actually find evidence or proof that these vapors existed.
That report we were expecting, paid for by the US Department of Energy and the Washington River Protection Solutions seemingly has found the answer. As a result of their findings the state's Attorney General wants to sue the site on behalf of all the sickened workers.
The Hanford site in Washington is sitting on over 50 million gallons of buried nuclear waste. Workers are there trying to clean up the site which used to make plutonium. In March, dozens of workers reported illnesses; some are still undergoing treatment for symptoms like headaches, memory loss or trouble breathing. Doctors still cleared many to return to work. The workers thought the source was the dangerous vapors from the chemicals below. They also alleged they were not given the proper safety gear and were deceived about exactly how dangerous the site was, and that the site ignored warnings from experts who said they could make the site even safer.
There are supposedly mechanisms to control and contain any dangerous vapor emissions from these tanks, yet the report found that the systems are grossly inadequate and the workplace is still very hazardous to workers. Even short exposure periods to these vapors can cause major health problems like organ damage. The report found that workers are exposed to higher levels of chemicals than they thought and higher levels than are acceptable under federal limits. Neither the Hanford management nor their workers know exactly what chemicals they are even being exposed to and the tanks do not have satisfactory vapor monitoring systems.
Maybe the inadequate monitoring systems are the reason why Hanford officials continued to deny that they were exposing workers to dangerous levels. They seemed perplexed as to why workers were showing symptoms, like we reported on earlier. Once an outside investigator came in with their own equipment the truth seemed to come out.
Now the state Attorney General, Bob Ferguson, wants to sue the Hanford. He said in a statement that he hopes the threat of a suit will get the Hanford to agree to talks and produce an enforceable agreement to protect their workers. If that doesn't happen he does intend to file a lawsuit.