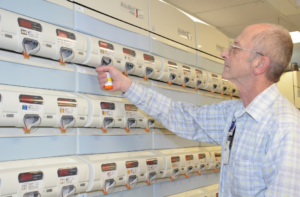 The Philadelphia Inquirer published a story that reveals that one of the area's largest workers' compensation law firms also owns a majority stake in a pharmacy that fills scripts for workers. Do you think this is a good thing, as it may ensure that workers receive their medications quickly, or do you think it may be putting profit ahead of a worker's best interest?
Three partners and the CFO of Pond Lehocky Stern Giordano have a 65 percent ownership of Workers First Pharmacy Services. Several physicians also own a percentage of the pharmacy.
The publication obtained a copy of an email sent by one of the firm's founding partners, Sam Pond, which asks physicians "for all patients that you may see with a workers' compensation claim, referred to you from our office or elsewhere, we ask that you have our pharmacy, Workers First Pharmacy Services, fill the scripts."
The email claims that the pharmacy will fill a script for workers even if their claim is denied, and prescriptions will be filled within 72 hours. This may relieve some workers who worry they will not receive care if their claim is tied up. Pond claims that the pharmacy is an add-on service for workers using the legal services of the firm, and does not feel that doctors are pressured to utilize Workers First Pharmacy Services even if they receive referrals from the firm.
An issue that we've seen with physician dispensing is that drugs can be priced much higher than they would typically be at a standard pharmacy. In certain situations, particularly when it comes to topical creams and medications, it seems that Workers' First is charging well above average. One client received a tube of diclofenac from Workers' First, who charged over $1,600 for a 5 ounce bottle that could cost between $60 and $70 if purchased wholesale.
The article included opinions from many attorneys and professionals involved in ethics committees. Many saw a potential for corruption or conflict, but the firm has not been charged with crossing any professional conduct rules. Abraham Reich is an attorney with Fox Rothschild and consulted with Pond Lehocky on an ethics opinion before the opening of their pharmacy. He said that this situation is similar to contingency-fee agreements, where a lawyer is paid a certain percentage if their client wins.
Do you think this seems like a conflict of interest, or do you think it is a good way for workers to receive coverage while they are waiting for their claim to be settled?