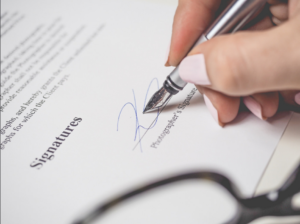 A California Workers' Compensation Appeals Court determined that an insurer has the right to rescind a workers' compensation policy, even if a worker has already been injured. In this case the employer's application for coverage implied that its employees did not travel out of state, but an employee was injured out of state.
An employee, David Berrios-Segovia, sustained a back injury on April 6th of 2009 when he was working in Tennessee. He filed his claim May 13th. EJ Distribution Corporation's application stated that they were a "local hauling" company and employees did not travel out of state or more than 200 miles. Southern Insurance began their coverage on January 1, 2009.  The company received a letter June 12th of that year stating that their policy was being rescinded. They claimed that EJ had misrepresented material facts in their application.
Segovia was joined by the Uninsured Employers Benefits Trust Fund (UEBTF) who supported his claim when the case went to an arbitrator. Though the policy itself did not have any location-based exclusions, Southern, as a company, did not issue policies to long-haul trucking companies. One of their underwriters testified that had they known drivers were going out of state or on long distance trips, they would not have issued the policy in the first place.
The arbitrator determined there was no retroactive rescission of their policy, and that the policy could be canceled as of June 15, 2009 but not before, so Segovia's claim was covered since he filed it before that time. The only remedy for Southern, once they found out about the misrepresentation, would be to cancel the policy according to the arbitrator. The arbitrator did not find anything in the Insurance Code Section 676.8 that would support a retroactive rescission to the start date of the policy or particularly if there is an open claim under the date of the policy, unless a superior judge or WCAB arbitrator approved it.
The Workers' Compensation Appeals Board agreed, and said that Southern had not done a complete investigation to see if EJ was in fact misrepresenting facts the entire length of their policy, perhaps this April incident was the first time, so it would be wrong to unilaterally and retroactively rescind the policy from the start date. It would also be wrong because then the worker may be deprived of benefits.
The appeals court overturned this opinion. They determined that a policy may be rescinded. Section 676.8 does not have a rescission clause, but Chapter 9 of part 1, division 1 of the Insurance Code does in Section 650. It applies to workers' compensation policy, and says that if a policy holder brings an "action" on the contract, the carrier can assert rescission as a defense to that. UEBTF argued that the workers' compensation claim that had been filed would preclude that, but the court said that filing a comp claim is not the same as an "action" on a contract.
They remanded the case back to the appeals board to make a decision that was consistent with their opinion. In their opinion they stated that the insurer should avoid drastic decisions about coverage for the worker who was injured, until the validity of the rescission could be truly determined and/or enforced.