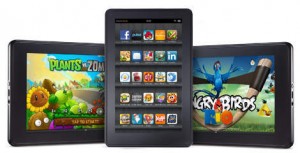 I know we are a little late in posting this story, this month has just flown by.  In November we held a survey for adjusters asking a few simple questions as to what you would do if you were given forty percent of your day back.  We were giving away a Kindle Fire to a random participant.  We had many entries and would like to thank everyone who participated, I am sure there will be many more opportunities for giveaways in the new year.  After closing the survey contest we choose a number at random and matched it to our participants and the lucky winner was Jane Tallent – Claims Specialist II at Broadspire.
I have spoken to Jane – she did receive her Kindle and loves it.  She was actually out sick from work for a period of time so we hope she is feeling better and that her new Kindle helped to pass some time.
You could be the next winner of a giveaway that we have.  Make sure that you enter and participate when we have surveys or contests.  From all of us at WCInsights we wish you and yours a very Merry Christmas and a Happy New Year.