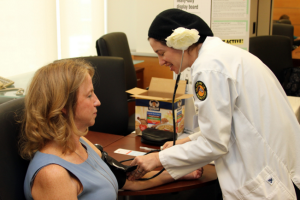 Wellness programs have become popular incentives for workers to try and work on their own personal wellness and popular for employers who hope to drive down their healthcare costs. Healthy employees tend to recover faster after an injury and may have less comorbidities which can sometimes complicate a workers' comp claim. In wellness programs some employers encourage participation by offering rewards to employees who participate. Sometimes the employer encourages participation in a way that "hits home" a little more, by penalizing an employee or increasing an employee's insurance rates if they don't participate.
Flambeau, Inc. is a Wisconsin company which started out their wellness program with the reward method, offering employees $600 if they completed a health risk assessment and biometric test. The results of these assessments were reported to the company anonymously so the company could not know a specific individual's results, but the combined results were used to set health insurance rates and set co-pay rates. After a year of this method their employees still had health problems and nutritional problems. They got rid of the $600 reward and instead only offered health insurance plans to employees that went through the wellness program. It was not exactly mandatory but if employees did not participate they would not have company subsidized health insurance. One employee who had completed the assessments in 2011 when there was a $600 incentive, but did not complete the assessments in 2012 when that went away, lost their insurance for 2012 and they were offered COBRA but did not accept that coverage because it was too expensive and the company did not subsidize the rate.
That employee filed a grievance with the union, the United States Department of Labor (DOL), and the Equal Employment Opportunity Commission (EEOC). The employee ultimately reached an agreement with the employer to reinstate health coverage but the DOL and the EEOC filed a lawsuit anyway, saying that this company's requirement that employees undergo medical testing violated the Americans with Disabilities Act (ADA), which has a section that bans employer mandated medical exams. Under the ADA, wellness tests can be voluntary with results reported anonymously to the employer but the results cannot be used to limit an employee's health insurance plans or used to penalize an employee otherwise.
The EEOC argued that this company was unjustly compelling participation with the threat of losing insurance coverage so it was not really voluntary. The medical exams were not employment related they were part of a wellness program. There were no alternative tests offered for employees who could not participate or who could not meet the standards because of a disability.
Flambeau argued that their testing requirements fell under the ADA's safe harbor section, which says that activities related to administrating a health benefit plan are exempt from the ADA's prohibitions. The company said that since employees had to complete the medical exams only if they wanted to be involved in the company health benefit plan, they were really voluntary.
The federal District Court ruled that Flambeau's use of the medical testing did fall under that safe harbor section, as it helped them with underwriting and classifying risks in their health benefit plan as they estimated costs for the year. They also used data to determine how much they should charge for preventive care, maintenance medications, or for smoking. The court said that since the exams were tied to how the company administered the group health plan's risk, and not isolated to just wellness plan use, that it was allowed.